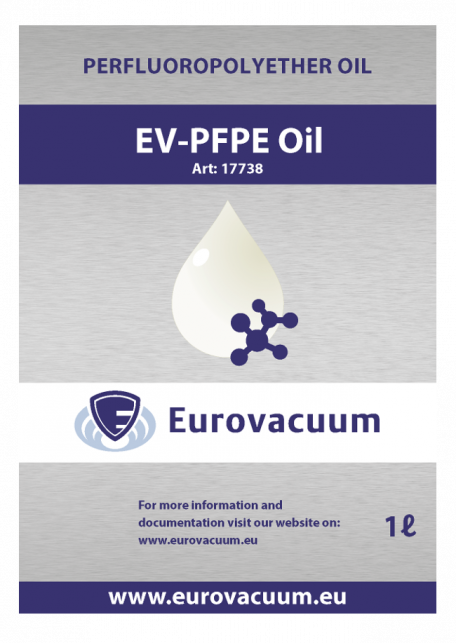 EV-PFPE Oil
Eurovacuum PFPE (Perfluorinated polyether) oils are are only composed of carbon, fluorine and oxygen atoms, these atoms for a highly stable chemical bond. This oil is chemically inert, can't oxydize, has very good thermal properties and can withstand high levels of radiation without polymerisation.PFPE oil is used when pumping reactive or oxidizing substances (for example oxygen, ozone or nitrogen oxides).
PFPE oils may not be mixed with other oils and should be used in specially prepared (cleaned) pumps.
For particular use contact Eurovacuum BV or one of our dealers.
Availability
EV-PFPE Oil is available in:
1 litre / 1.9 kilo – article number: 17738

For other quantities please consult Eurovacuum BV or one of our dealers.
Technical data
Viscosity:
at 40 °C (104 °F) mm2/s (= cSt) 47
at 100 °C (212 °F) mm2/s (= cSt) 5
Vapor pressure
at 020 °C (068 °F) mbar (Torr): 3 x 10-7 (2.25 x 10-7)
at 100 °C (212 °F) mbar (Torr): 6 x 10-4 (4.5 x 10-4)
Flash point: –
Density at 15 °C (59 °F) g/ml 1.89
Pour point °C (°F ) -40 (-40)
Safety Data Sheet
Not yet available