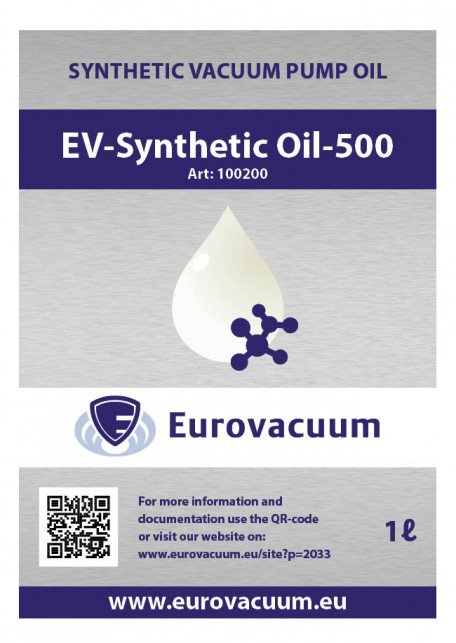 EV-Synthetic Oil-500
Eurovacuum synthetic oils are chemically produced.The composition (or mixture) is specific for the use in most vacuum applications where oil is required that whitstands higher temperatures.
EV-SyntheticOil-500 is an oil for use with our EV-series vacuum pumps and can be used for most processes that involve air, inert gases, noble gases and/or water vapor.
Availability
EV-SyntheticOil-500 is available in:
1 litre – article number: 100200
5 litre – article number: 100202
20 litre – article number: 100203
For larger quantities please consult Eurovacuum BV or one of our dealers.
Compatibility
The following seals, paints, and plastics are recommended for use in contact with EV-SyntheticOil-500.
Materials not recommended are also shown.
Recommended: Viton, High Nitrile Buna N, Teflon, Epoxy Paint, Oil-Resistant Alkyd, Nylon, Delrin, Celcon, PBT.
Not recommended: Neoprene, SBR Rubber, Low Nitrile Buna N, Acrylic Paint, Lacquer, Polystyrene, PVC, ABS.
Technical data
Viscosity:
at 40 °C (104 °F) mm2/s (= cSt) 93.5
at 100 °C (212 °F) mm2/s (= cSt) 9.1
Flash point °C (°F ) 250 (482)
Density at 15 °C (59 °F) g/ml 0.957