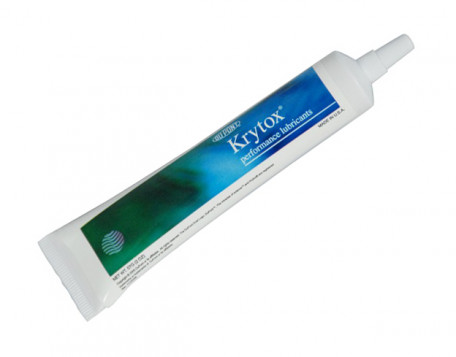 Krytox grease GPL-227
Greases from DuPont™ Krytox® Performance Lubricants deliver long-lasting lubricity and viscosity performance that no hydrocarbon-based grease can match. These advanced lubricants deliver measurable value, reducing maintenance costs for re-lubrication, component failure and downtime. When compared to conventional lubricants,  Krytox® grease provides less friction and wear, with longer service life for your critical components.
DuPont™ Krytox® greases are created by thickening synthetic perfluoropolyether-
(PFPE-) based oil with polytetrafluoroethylene (PTFE) powder, creating a white, nontoxic grease that provides excellent lubrication in demanding applications. The PTFE thickener forms a barrier that holds the base oil at friction contact points for long-term lubrication without requiring complicated oil recirculation systems.
Krytox® offers anticorrosion-grade greases and additives that combine high-performance, anti-friction lubrication with effective anti-rust protection for surfaces under high loads. Because Krytox® grease cannot be washed out with water, is not affected by steam, and is non-reactive to acids and industrial cleaning solutions, your bearings are protected against oxidation and lubricant washout.
Availability
Krytox grease GPL-227 is available in:
2 oz. tube – article number: 990230
1 kg container – article number: 990232
For other quantities please consult Eurovacuum BV or one of our dealers.
Technical data
Standard NLGI Grade: #2
Estimated Useful Temperature Range, °C (°F): –30–288 (–22–550)
Base Oil Viscosity, cSt
20°C (68°F):1600
40°C (104°F): 440
100°C (212°F): 42
Oil Separation, %, 30 hr at 99°C (210°F): 3
Appearance: White, Creamy Consistency
Anticorrosion Additives"Sodium Nitrite
Antirust Rating ASTM D1743: Pass
Specific Gravity: 1.95
Four Ball Wear Scar, ASTM D2266 at 1 hr, 1200 rpm, 107°C (225°F), 20 kg load: 0.4 mm
Coefficient of Friction, ASTM D2266: 0.11
Safety Data Sheet
Not available yet