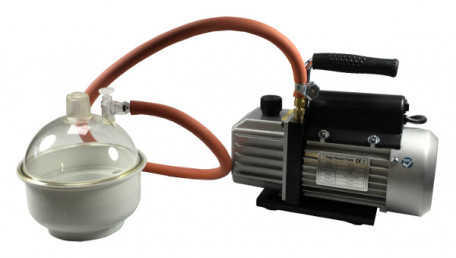 Compact De-Gassing Systems
Vacuum systems are used to pull the air from a high viscosity material before using. Particularly useful when casting clear materials. These easy to use vacuum desiccators chambers are from Polypropylene and have a see-through lit made from Polycarbonate. Designed in mind for the versatile mold maker. These cambers are also used by model makers and hobbyists.
The chamber system consists of: see-through lit, Vacuum pump, 1 mtr Rubber hose, Vacuum manometer, blocking valve and venting valve.
Part Number
| Ordering Information | Compact De-Gassing Systems |
| --- | --- |
| Compact Vacuum Chamber 300mm with EVD-VE110 | 419014 |
| Compact Vacuum Chamber 300mm with EVD-VE115SV | 419015 |
Specifications
Technical Data
Compact De-Gassing Systems
Chamber material
Polypropylene
See-through lit material
Polycarbonate
Chamber dimensions compact ØxH
mm
250×300
End-pressure vacuum
 %
97%
Consumables
| Consumables | Compact De-Gassing Systems |
| --- | --- |
| 1 ltr EV-Highvacuum Oil-60 | 100400 |
| 1 mtr Rubber hose | 419022 |
| Hose clamps | 419023 |
| Venting valve | 419024 |