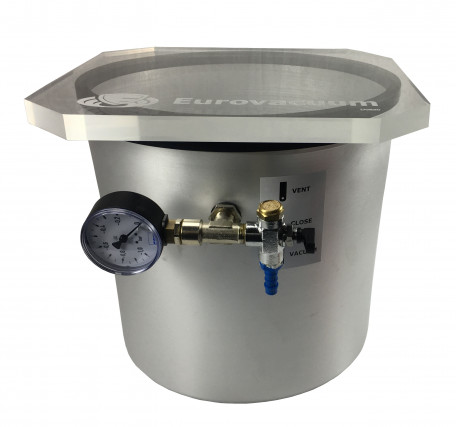 Standard De-Gassing Systems
Standard De-Gassing systems are used to pull the air from a high viscosity material before using. Particularly useful when casting clear materials. These easy to use vacuum degassing chambers are from Aluminium or Steel with powder coating and have a see-through lit. Designed in mind for the versatile mold maker. These cambers are also used by model makers and hobbyists and are available in the following sizes:
De-Gassing Chamber with volume of 9 ltr
De-Gassing Chamber with a volume of 25 ltr
De-Gassing Chamber with a volume of 70 ltr
These degassing systems consists of: see-through lit, Vacuum pump, 1 mtr hose, vacuum manometer, blocking valve and venting valve.
Part Number
| Ordering Information | De-Gassing Systems |
| --- | --- |
| De-gassing chamber/Catch pot Alu 9 liter (no pump) | 419005 |
| De-Gassing Chamber Alu 9 liter with EVD-VE115SV | 419030 |
| De-Gassing Chamber Alu 9 liter with EVD-VE125SV | 419031 |
| De-Gassing Chamber Alu 9 liter with EVD-VE135SV | 419032 |
| De-Gassing Chamber Alu 9 liter with EVD-VE215SV | 419033 |
| | |
| De-Gassing Chamber Alu 25 liter (no pump) | 419115 |
| De-Gassing Chamber Alu 25 liter with EVD-VE135 | 419006 |
| De-Gassing Chamber Alu 25 liter with EVD-VE225 | 419009 |
| De-Gassing Chamber Alu 25 liter with EVD-VE235 | 419010 |
| De-Gassing Chamber Alu 25 liter with EVD-VE245 | 419011 |
| De-Gassing Chamber Alu 25 liter with EVD-VE260 | 419012 |
| De-Gassing Chamber Alu 25 liter with EVD-VE280 | 419013 |
| | |
| De-Gassing Chamber Steel 70 liter (no pump) | 419080 |
| De-Gassing Chamber Steel 70 liter with EVD-VE280 | 419226 |
| De-Gassing Chamber Steel 70 liter with EVD-VE2100 | 419227 |
| De-Gassing Chamber Steel 70 liter with EV-0016 | 419240 |
| De-Gassing Chamber Steel 70 liter with EV-0021 | 419242 |
| De-Gassing Chamber Steel 70 liter with EV-0030 | 419243 |
Specifications
Technical Data
De-Gassing Systems
Chamber material 9 & 25 ltr
Aluminium
Chamber material 70 ltr
Steel powder coated
Chamber dimensions 9 liter ØxH
cm
22 x 22
Chamber dimensions 25 liter ØxH
cm
30 x 30
Chamber dimensions 70 liter ØxH
cm
45 x 45
End-pressure vacuum
 %
98%
Consumables
| Consumables | Standard De-Gassing Systems |
| --- | --- |
| 1 ltr EV-Highvacuum Oil-60 (EVD-VE pumps) | 100400 |
| 1 ltr EV-Mineral Oil-32 (EV-0010, 0016 & 0021) | 100110 |
| 1 ltr EV-Mineral Oil-100 (EV-0030 and bigger) | 100100 |
| 1 mtr Rubber hose (9 & 25 ltr chambers) | 419022 |
| 1 mtr PVC hose with steel spiral 12mm | 119010 |
| Hose clamps (9 & 25 ltr chambers) | 419023 |
| Chamber Sealing (9 ltr chamber) | 419303A |
| Chamber Sealing (25 ltr chamber) | 419103A |
| Chamber Sealing (70 ltr chamber) | 419203 |
| Paper dust filter cartridge (G 3/8″ filter housing) | 018001 |
| Paper dust filter cartridge (G 1/2″ filter housing) | 028001 |
| Paper dust filter cartridge (G 1-1/4″ filter housing) | 208001 |