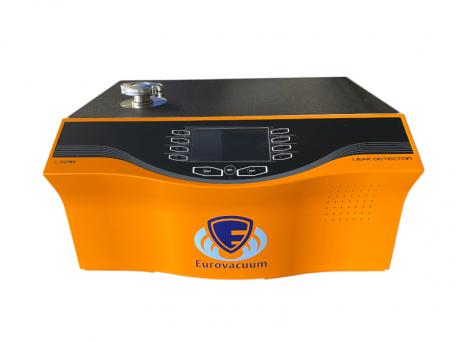 EV-LX218
Integrated high quality components enable first-class performance for absolute measurement accuracy at outstanding speed. The simple navigation and robust construction make the EV-LX218 leak detector the ideal choice for companies in a wide range of industries. The helium leak detector has a start-up time of less than three minutes and offers a fast leak test and reaction time. A further advantage: With its vacuum mode and sniffing option, it is perfectly suited for efficient leak localization and leak size determination.
Competitive price thanks to standard components and direct distribution channels
Highest degree of availability and reliability, even after long periods of use, with proven vacuum technology components such as mass spectrometers, pumps and valves
Very short measuring times due to high pumping speed
Detection of the smallest leaks, even in environments contaminated by helium, with an intelligent stainless steel vacuum system
The highest quality in your production or service application guaranteed by high-precision measuring technology
Easy operation and installation, with no training required
Robust and versatile, it can be used even in the harshest production environments
Function
The device is a leak detector for detecting and measuring leaks in test objects. The device is suitable for leak detection using the vacuum method and the sniffer method.
When using the vacuum method the test object is evacuated and subjected to helium or forming gas from the outside. To do this it is necessary to establish a vacuum connection between the device and the test object.
When using the sniffer method an overpressure is established in the test object using helium or a forming gas. The test object is then inspected on the outside using a sniffer line.
Part Number
EV-LX218 Helium Leak Detector
Part Number
Description

8200-000

EV-LX218; Oil-Sealed pump; 230V ±10%; 50Hz

8200-001

EV-LX218; Oil-Sealed pump; 115V ±10%; 60Hz

8200-002

EV-LX218; Drycompressing pump; 230V ±10%; 50Hz

8200-003

EV-LX218; Drycompressing pump; 115V ±10%; 60Hz

8200-004

EV-LX218; Without pump; 100-230V ±10%; 50/60Hz
Accessories
EV-LX218 Helium Leak Detector
Part Number
Description
551-300
Sniffer line 3m
551-301
Sniffer line 5m
551-302
Sniffer line 10m

551-010

Remote Control RC1000C, wired, with 4m coiled cable

551-015

Remote Control RC1000WL, wireless, incl. wireless transmitter
Specifications
| Type | EV-LX218 Helium Leak Detector |
| --- | --- |
| Lowest detectable leak rate for He | ‹ 5 x 10E-13 Pa m³/s |
| Ion source | Two long-life iridium filaments, yttrium-oxide coated |
| Testing method | Vacuum and sniffer leak detection |
| Detectable gases | 4He, 3He, H2 |
| Internal He test leak | 10E-8 Pa m³/s |
| Leak rate display | 10E-13 – 0.1 Pa m³/s |
| Time to operation | 3 min. |
| Response time | 0.5 s |
| Suction capacity: He | 2.5 l/s |
| Connecting flange | DN 25 ISO-KF |
| Inlet pressure, max. | 25 mbar |
| Ambient temperature | +10°C to +35°C in operation |
| Input: analog | Compact gauge |
| Input: digital | Start/stop, zero, calibration |
| Interface | RS-232-C, RS-485 |
| Output: analog | Leak rate signal 2 x 0-10 V, lin/log |
| Output: digital | Ready to start, ready to measure, leak, error, partial flow valve |
| Relay: switch voltage | 2 x 230 V AC |
| Relay: switch current | 3 A |